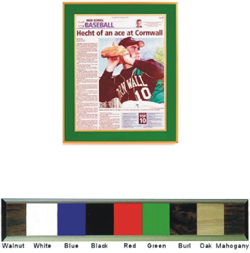 Laminated Plaques
Each handsome laminated plaque transforms the material it protects into an aestetically appealing showpiece. Awards, diplomas, certificates, and photographs are beautifully enhanced and permanently preserved. Our Deluxe Plaques provide an attractive and economical alternative to framing and a permanent safeguard against deterioration.

Backround & Bevel Color Options

Materials to be laminated is edged in your choice of gold, silver or black to match the plaque's beveled outer edges. Each plaque is then hand-worked through a 26 step process that blends advanced technological skill with traditional craftsmanship.
Not sure what to say?